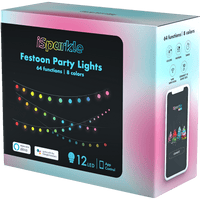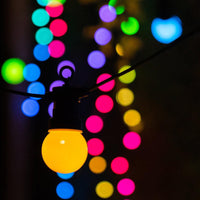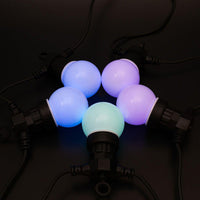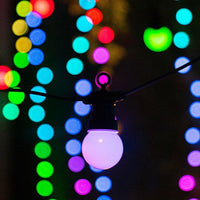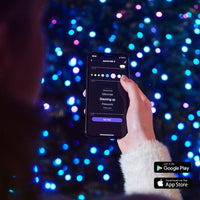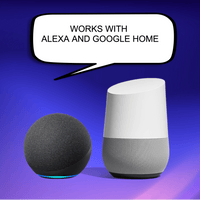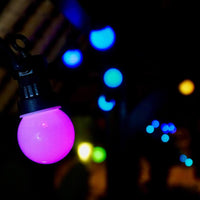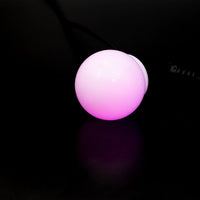 Festoon Lights (12 LED Bulb) Smart RGB Edition
Description
iSparkle Smart RGB Festoon Lights are perfect to create a vibrant and colorful ambiance. With 12 round bulbs featuring a matte finish, these lights offer the brightest colors and stunning effects that can be easily controlled through our iSparkle RGB App. 
Choose from a variety of colors and effects to suit your mood. Connect up to 10 iSparkle light sets and enjoy the convenience of smart home integration with Google Assistant and Amazon Alexa for voice control. 
These smart LED party lights can be used both indoors and outdoors, so you can level up your lighting decorations no matter where you are. Whether you're hosting a summer party or planning a dinner, the iSparkle Festoon Lights offer the perfect illumination.
Don't settle for ordinary lights - upgrade to iSparkle Smart RGB Lights for a truly exceptional lighting experience.
Decoration Tips
Take your decorations to the next level with the Festoon Lights. You can combine up to 3 Festoon Party Light sets to form a 36 bulb long string (18 m) to decorate large spaces.

Add the perfect touch to your party decorations or drape them along fences or hang them high above your outdoor space to create a vibrant and festive atmosphere for summer garden gatherings and other events. Transform your backyard, terrace, or balcony into a magical space and infuse your favorite moments with a burst of color.
Technical Specifications
Product Name: iSparkle RGB Festoon Party Light - 12 LED Bulb
Brand: iSparkle
Family: RGB
Type: Festoon Party Lights
Bulb Type: 12 Bulbs Classical LED
Total Length: 11 m
Bulb Spacing: 50 cm
Length from first to last bulb: 6 m
Length of Lead Cable: 5m
Strings: Single
Color: RGB color changing
App Control: Yes - Android & IOS
Voice Control: Yes - Alexa & Google Assistant
Multi Language Support: Yes
Main Supply: Wifi Transformer, IP44 transformer connected by wifi app, manual control on transformer, Up to 3 sets can be connected to create a 36 bulb long set
Features
How DOES IT WORK
Festoon
Jetzt meine zweite Licheterkette von Isparkle (die erste bei OBI gekauft. dieser Party-Lichterkette ist nicht zu hell aber seht wunderschön aus und ist mit der App über WLAN schnell und einfach zu koppeln und dann zu steuern. Super Effekte wie Lauflichter und Farbwechsel
I like this product because they can be used in Christmas but also for general decoration throughout the year. Product as shown here. Seems to function properly.
Great Wifi coverage
App control is the best. It even works from upstairs.
Festoon Party Lights (12 LED Bulb) Smart RGB LED
Love
Good value for the price. I will buy more for Xmas.